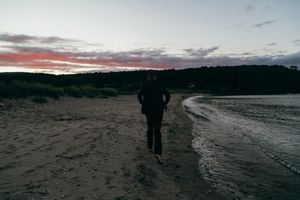 'THE SUMMER SONG' - Out Now
Tackling the consistent struggle to accept oneself and the challenge in developing a self-assurance, 'The Summer Song' showcases a level of honesty in Tadhg Williams' songwriting yet to be seen from the Waterford artist. 
Written and recorded within two months, 'The Summer Song' was written to juxtapose Williams' previous single. Having written 'The Hope Song' at the age of 18, this single reflects on Williams' progression as a songwriter since. 
Recorded in Broderick's Studio, Kilkenny, produced by Thomas Donoghue and featuring piano and synths from long-term collaborator Pat O'Connor. 
'The Summer Song' is available to stream and download now!
"One of Ireland's most thrilling emerging songwriters" - Hot Press 
"A man with many artistic pots on the boil. He is a man on the path, walk on brother" 
- David Keenan
"Never go to a Waterford match with him, he'll burst your ear drum." - Ex-housemate